Tigers shift focus to import draft
By RYAN MCCRACKEN on June 27, 2020.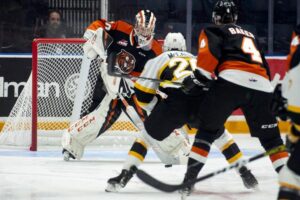 NEWS PHOTO RYAN MCCRACKEN -- Medicine Hat Tigers goaltender Mads Søgaard leaves his crease to play the puck with Brandon Wheat Kings winger Ben McCartney bearing down during a Western Hockey League game at the Canalta Centre on Tuesday, Nov. 19, 2019.
rmccracken@medicinehatnews.com
The Medicine Hat Tigers have protected both of their Danish imports for the upcoming season, but director of player personnel Bobby Fox will still be scouting for the best player available with the 51st selection in Tuesday's Canadian Hockey League import draft.
Forward Jonathan Brinkman is set to return for his second year with the Tigers as a 19-year-old, while goaltender Mads Søgaard is approaching overage status after two seasons with the club, which grants Medicine Hat one selection in the upcoming draft – though only two import players can remain on the roster for the season.
"We've protected both of them. With Mads being an overage player we're allowed to select one player, and we'll select at No. 51," said Fox. "We're currently going through guys, watching video. We're not looking for a particular position at this point, we're trying to get the best player."
The Tigers have had some positive results at the import draft in recent years. Søgaard joined the team in 2018 and quickly became one of the Western Hockey League's top goaltenders, as well as a 37th overall pick of the Ottawa Senators in the 2019 draft.
Brinkman joined his Danish national teammate and childhood friend in Medicine Hat the following summer and went on to record 13 goals and 14 assists in 56 games this season.
Other notable selections from recent years include Swedish blueliner Linus Nassen and forward John Dahlstrom, and Latvian defenceman Kristians Rubins.
Nassen closed out his two-year Tabby tenure last year after producing eight goals and 64 assists over 106 games, while Dahlstrom helped the Tigers to Game 7 of the Eastern Conference semifinal in 2017 after putting up 30 goals and 29 assists in 63 regular season contests. Both Nassen and Dahlstrom spent the past season in the Swedish Hockey League.
Rubins also put in two years with the Tigers, racking up 41 assists and 10 goals over 109 games from 2016-18, before earning a spot with the ECHL's Newfoundland Growlers and winning the Kelley Cup in his rookie season. Rubins has since been signed to an entry-level contract by the Toronto Maple Leafs.
Fox says it's standout players like these that make the import draft so important, but it's always a challenge given the lack of scouting access to European players.
"It is a weird draft. Unless you've seen the player personally, you're watching a lot of video, you're talking to a lot of agents and there's a little bit of luck involved. But it really can help you moving forward if you can get the right guy," he said. "I think you can really solidify a lineup, really get some depth in your lineup by making a good selection."
Leave a Reply
You must be logged in to post a comment.