By RYAN MCCRACKEN on June 25, 2020.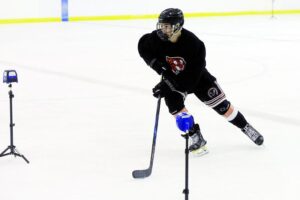 Medicine Hat Tigers prospect Oasiz Wiesblatt participates in an on-ice training session at his team's annual orientation camp in this May 2019 file photo.--NEWS FILE PHOTO
rmccracken@medicinehatnews.com
Oasiz Wiesblatt will be representing his country in a virtual format after being invited to Hockey Canada's online under-17 development camp next month.
It may not offer the same level of exhilaration as being on the ice, but the Medicine Hat Tigers prospect says that won't sour his first taste of Hockey Canada's Program of Excellence.
"I know a lot of people would want this opportunity and I understand that. I'm just honoured," said Wiesblatt, one of 113 players and 64 forwards chosen. "I'm excited just to meet all the guys. It's a little bit a of a different camp, I would say, but I'm still going to have fun with it."
The camp runs July 19-25 and will split players into six teams for virtual development sessions. It's the first step toward securing a spot on one of Canada's three rosters at the World Under-17 Hockey Challenge – scheduled for early November in P.E.I.
Tabby winger Cole Sillinger represented Canada White at last year's event in Medicine Hat and Swift Current, while Wiesblatt's older brother Ozzy competed for Canada Black in 2018 before winning the WHL championship with the Prince Albert Raiders in 2019.
"It was Ozzy's year. He was an assistant captain (with Canada Black) and he says it was one of the best opportunities he's ever had," said Wiesblatt. "Now the NHL draft is coming up and they know him from the U17s. I think that's pretty cool."
Tigers director of player personnel Bobby Fox says the camp will be a great developmental experience for Wiesblatt – Medicine Hat's top pick in the 2019 bantam draft at 12th overall – even without on-ice activities and competition.
"We're extremely proud of him. It's the first step, an introduction to the Program of Excellence with Hockey Canada, and it's going to be great for him," said Fox. "I know it's a virtual camp, but he's going to be surrounded by really good guys that are going to push him to get better, even in the virtual setting."
Wiesblatt is coming off a strong season with his hometown Calgary Buffaloes of the Alberta Midget Hockey League – now the Alberta Elite Hockey League. The 5-foot-6, 165-pound centre racked up seven goals and 14 assists in 29 games, then added three points in six playoff contests. Wiesblatt also produced two goals and three assists in four games at this year's Mac's AAA Hockey Tournament to help lead his team to its fourth championship.
"We were kind of underdogs. We played (a Russian team), that was one of the coolest things out of that tournament, but us winning the Macs was obviously the best moment," he said.
Wiesblatt also suited up for one game with the Tigers this season – against the Rebels in Red Deer – and says the experience helped him understand where he needs to be in order to crack a full-time spot.
"That was unreal. Right when I walked in the dressing room everyone came to say hello and welcome me in. With the game, it was actually surreal how fast it was, how much bigger the guys are, how much faster you have to think," he said. "I tried to pick some things to work on during the year and I think I did that."
Wiesblatt has been spending his off-season at his home in Calgary. While he was largely isolated in the early weeks of the pandemic due to the city's high number of COVID-19 cases, Wiesblatt says his four hockey-playing brothers -18-year-old Ozzy, 20-year-old Calgary Hitmen winger Orca and graduating 21-year-old Portage Terriers forward Ocean – as well as his soccer-playing sister Oceania, have been keeping him motivated through the extended off-season. They've even had some help from Edmonton Oil Kings winger Jake Neighbours, who Oasiz says has been stopping by every day to work out at their home gym.
"He's the type of guy who always pushes us, I would say. He pushes Ozzy and my brothers have always pushed me. We just keep each other accountable," he said. "At the start (of the pandemic) it was actually really bad. My mom wouldn't let us out of the house so the brothers got together, and my sister, and every day we played spikeball and tried to do things outside like soccer, football. We've just tried to stay active."
Leave a Reply
You must be logged in to post a comment.