Local rodeo enters big league
By RYAN MCCRACKEN on June 25, 2020.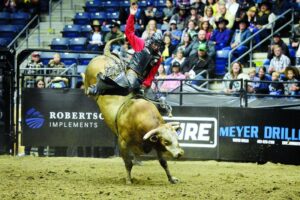 Maple Creek's Jared Parsonage hangs onto the back of a bull during last year's Professional Bull Riding's Thunderbuck in the Badlands at the Canalta Centre.--NEWS PHOTO RYAN MCCRACKEN
rmccracken@medicinehatnews.com
Thunderbuck in the Badlands is slated to return to the Gas City in September as part of Professional Bull Riding Canada's elite Monster Energy Tour.
The event is brought to Medicine Hat by local company Blazing Brand Marketing and Productions, and made its Gas City debut in 2019 as part of the Touring Pro Division. But Thunderbuck in the Badlands has since been promoted to the Monster Energy Tour, which will offer riders twice as many points toward the national and world standings when bull riding action returns to the Canalta Centre on Sept. 26.
"I'm hoping that the community in southern Alberta was waiting for some good news like that, and we hope to see everybody in September," said PBR Canada director of operations Jason Davidson. "It's our premier tour in Canada. It's the tour that TSN covers and televises. We require our top riders to be at the Monster Energy Tour events – they can't qualify for the $50,000 year-end bonus as national champion if they don't attend these events."
Davidson says PBR Canada made the decision to promote Thunderbuck in the Badlands from the Touring Pro Division to the Monster Energy Tour due to Medicine Hat's "rich history of Western lifestyle," including the annual Stampede and a stop on the World Professional Chuckwagon Association tour.
"We were almost committed to doing it last year," he said. "We got a year under our belt there and we think Medicine Hat is definitely ready to support the major leagues of Professional Bull Riding Canada."
Kindersley's Dakota Buttar took top spot at Thunderbuck in the Badlands last year. Buttar went on to enter the PBR Canada Finals in a neck-and-neck battle with Maple Creek's Jared Parsonage, only to watch New York's Daylon Swearingen rally to clinch the Canadian championship.
Buttar has since won three of the four bull riding events to date this season – including both stops on the Monster Energy Tour – to hold first in the national standings.
"He was riding 100 per cent of his bulls. If you're familiar with bull riding, especially PBR and Monster Energy Tour bull riding, you're getting on the best bulls in every round possible," said Davidson. "He was on pace to set some serious records as far as points and dollars won. We expect that race to pick right back up in the fall when we get going again."
All riders at this year's Thunderbuck in the Badlands event will attempt one bull in the opening round, with the best 10 scores advancing to a championship round. Tickets are available at ticketmaster.ca. While scheduling is subject to change, Davidson says PBR is confident its fall schedule – which kicks off with Thunderbuck in the Badlands – will move forward as planned.
"We will be working very closely with the Alberta health authorities and the venue, obviously, to deliver the safest product we possibly can," said Davidson.
The announcement that Medicine Hat would be making its Monster Energy Tour debut was released on the same day that the Canadian Professional Rodeo Association announced it will be postponing the Canadian Finals Rodeo to 2021.
Editors note: A previous version of this story quoted Jason Davidson saying PBR Canada is using POD seating and mobile ticketing options at its events. PBR Canada has since clarified that those guidelines are specifically for its Grande Prairie show at Revolution Place, and guidelines for Thunderbuck in the Badlands will be determined by Canalta Centre and event staff in conjunction with Alberta Health Services. 
Leave a Reply
You must be logged in to post a comment.