By MO CRANKER on June 23, 2020.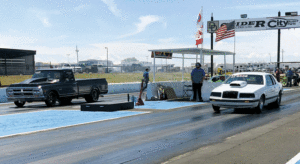 Racers take off this weekend at the drag strip during the first set of races for the year.--SUBMITTED PHOTO
mcranker@medicinehatnews.com
This past weekend marked the first of the year for the Medicine Hat Drag Racing Association, and brought back some normalcy for Hatters.
Because of the COVID-19 pandemic, the association was forced to call off its opening event. Organizers worked on ways to make the events safe, and were able to have a successful first outing.
"It was really good," said association president Dave Toth. "We had a really good car count Friday night and the rest of the weekend was really good overall.
"Other than the rain on Sunday, it was smooth."
The drag association had to put a number of measures in place to ensure safety for patrons. One of the biggest rules was a strict limit of 100 spectators allowed.
"We had our policies in place and everyone co-operated," said Toth. "We didn't really have to tell anyone that they were breaking rules.
"Everyone really helped out and did their part."
Friday
Mason Bell won the Street Friday race, with Casey Koellmel coming in second.
Jonathon Hittel took home first place in the Friday Night Bike event. Gerald Beatch was the runner up.
Saturday
Kiandra Gaetz won the Jr. Thunder on Saturday while Gray Schaan placed second.
Kindi Opsal won the Jr. Lighting outing. Rayce Schultz took second.
Justus Schaan took Junior Street honours, Teagan Thorpe placed second.
Dean Adie took Saturday's Sportsman class. Tristan Van Maarion took second.
Braydon Heroux won the Pro race, while Tyler Zeller was the runner up.
Danny Holmedal won the Super Pro race. Troy Philbert was the second place finisher.
Pro Bike honours went to Dennus Cotten. Kristen Ashby finished second.
Sunday
Gray Schaan won the Jr. Thunder race while Kiandra Gaetz took second.
The Jr. Lighting class went to Tanner Gaetz. Calum Kestner was the runner up.
Teagan Thorpe took top honours in the Junior Street category while Darian Dopp got second.
Dean Adie won the Sportsman race, with Murray Van Maarion taking second.
The Pro heat went to Braydon Heroux. Tyler Zeller took second.
Darren Miller won the Super Pro heat. James Tracey came in second.
The Pro Bike honours went to Kristen Ashby. Dennis Cotten was the runner up.
Leave a Reply
You must be logged in to post a comment.