By Medicine Hat News on May 29, 2020.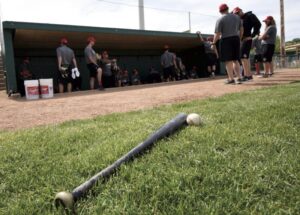 NEWS PHOTO SEAN ROONEY - The Medicine Hat Mavericks wind up a practice May 27, 2019 at Athletic Park.
On a day the Medicine Hat Mavericks were to play their home opener at Athletic Park, owner Greg Morrison was throwing batting practice.
The left-hander often does during the Western Canadian Baseball League season, especially when the opposing team lists a southpaw as its starting pitcher.
But Thursday, there were no fans. The players he was throwing to weren't Mavericks. Just the crack of the bat, the smell of emerald green grass and not a cloud in the sky.
The Mavericks won't play this summer, their season officially cancelled late Wednesday night after a league board of governors meeting – held virtually, of course, due to the COVID-19 pandemic that has stopped all organized sports and upended society since mid-March.
"It's going to be a long summer," said Morrison, who grew up playing both in youth leagues and later as a pro at the hometown park. "What a unique circumstance, right? Two winters before you have one baseball season, really.
"You're kind of in shock for a while about it. As it all settles down you realize that really did happen."
The death knell for the season occurred when public gatherings were limited to as few as 15 people, though now the number is 50. Athletic Park has a capacity of 1,500 and running the team from a financial perspective would be impossible without fans.
The inability of American players to cross the border at the moment was also a huge factor, as was the necessity of continually testing and monitoring players for the new coronavirus.
"That's more than 50 per cent of your team quite often," Morrison said of the Americans. "The mathematics didn't work on it, guys having to quarantine, things were getting to that point of no return."
Refunds are available to anyone who bought a season ticket or businesses which sponsored the team, but Morrison says most are content with simply carrying those commitments forward to 2021.
And there will be a 2021 season, he says, though until a vaccine is developed for COVID-19 there's no telling what federal and provincial governments will do to try and prevent further outbreaks.
"We're looking to be bigger and better next summer," said Morrison, who along with coaches Nolan Rattai and Jared Libke told the players the bad news prior to official word going out. "For every one of those players there was an offer to next season. We even adjusted our league rules in regards to player protection, where we just push things forward to next year."
There will be baseball at the park this summer, but for now it's just Morrison offering private lessons. That's why he was throwing in the batting cage. High school and American Legion seasons are already cancelled, and there's no word on whether the senior men's Sask-Alta Baseball League might figure something out.
The Mavericks may yet put together a couple special events for fans to participate in virtually, but for now, it's time to mourn what's been lost.
"I didn't realize how much I missed throwing batting practice," said Morrison. "This is getting back to some normalcy for people.
"I think we'll all appreciate everything moving forward. All those little things…
"We've got to press on."
Leave a Reply
You must be logged in to post a comment.