By RYAN MCCRACKEN on May 28, 2020.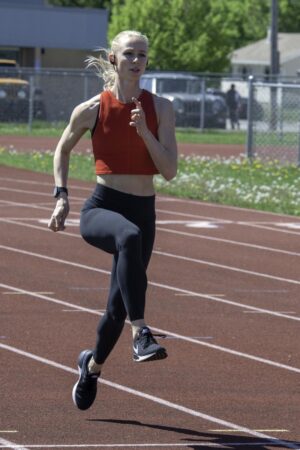 NEWS PHOTO RYAN MCCRACKEN - Olympic hurdler Sage Watson, of Seven Persons, trains at the Rotary Track in Medicine Hat on Tuesday.
rmccracken@medicinehatnews.com
Television may be nearly devoid of live sports, but if you drive by Rotary Track at the right time you just might see an Olympian at work.
Local Olympic hurdler Sage Watson has been riding out the pandemic at home with her family, and spending a few days each week training for the postponed Tokyo Olympics and upcoming Diamond League season on the track where she first began to flourish.
"It got built when I was in elementary school, so I've been running on it forever," said Watson. "It's been really nice to have the track, and to have people like Marg Derbyshire (Alberta Schools Athletics Association South Zone secretary-treasurer) support me being here and using the facility – and that it's open to the public."
Watson added training at Rotary Track has allowed her to interact with the Medicine Hat's athletic community, including a few rising stars hoping to follow in her footsteps.
"I've had people come out here and say good luck for the Olympics next year. I really appreciate the support that Medicine Hat continues to give me while I train," she said. "I've seen some younger athletes out here training, which has been really cool, to watch them still training knowing that they're in high school. I've met some people who are in university training. It's great to see other athletes using the track to get ready for next year."
The 25-year-old sprinter had her hopes of returning to the Olympics this summer put on hold after a stellar 2019 season that featured a Canadian championship title, Pan-American Games gold and podium finishes in Italy, the Czech Republic, Belgium and Switzerland. She even broke a 23-year-old Canadian record at the world track and field championships in Qatar. The Olympics have been rescheduled for next summer, but Watson says Diamond League aims to resume in August.
"Everybody is stuck in the same boat right now. Everybody has events postponed, big things postponed, so it was only right that the Olympics got postponed instead of trying to reschedule them for this year," she said. "I think that gives us a bigger time frame to prepare, which is really nice. I can use this summer and know that I'm preparing for next year versus waiting to see when they would get postponed to."
While it's kept her away from her training partner and coach, Watson says being holed up in the Medicine Hat area hasn't forced her to change too much of her training regimen.
"It hasn't been too much different. I had to adjust some of my workouts when I came back (in mid-March) and it was snowing," she said. "I've been able to do most of my training that I would normally be doing in Arizona here. The only difference is I don't have my coach or training partner. I've been able to get it done and it's actually been going really well for me."
If there is a silver lining to come out of the pandemic, Watson says it's that she has been able to spend a lot of time with her family – something she's deprived of while living and training in Arizona.
"That's been the best thing about being home, is being with my family and doing fun family activities," she said. "We live on a ranch just outside Medicine Hat so we've done lots of fun stuff. Getting that quality time that I would never normally get with them, because I live in Arizona, that's been a huge benefit of all of this going down."
Leave a Reply
You must be logged in to post a comment.