Rattlers repeat with national award win
By Medicine Hat News on May 27, 2020.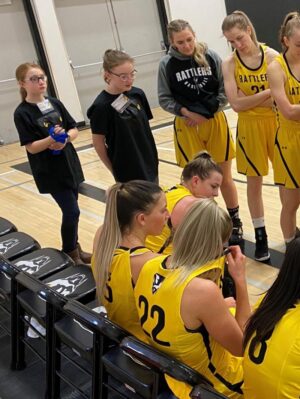 SUBMITTED PHOTO - A pair of local girls look on during a time out as the Medicine Hat College Rattlers women's basketball team competes in conference championships this past March.
For the second year in a row, Medicine Hat College's athletics department has earned a national award for community service.
Following a win for their volunteerism in 2019, the Rattlers were honoured this time for what they did for gender equity during a pair of conference championship tournaments.
Hosting both women's volleyball and basketball finals on consecutive weekends, the college team did everything from finding guest speakers to putting local girls on the bench with teams to spread positivity and inspiration.
"Medicine Hat's special event celebrations of women and girls in sport was a great example of commitment to advancing gender equity in sport," said Brittany Tierney, the vice president of sport development with the Canadian Collegiate Athletic Association, in a press release.
Local girls were invited to attend the awards ceremony which accompanied each tournament. Hall of fame volleyball coach Sue Higgins and national-level basketball player Krysten Hager were guest speakers. Ex-Rattlers volleyball player Megan Nagy and local track coach Sonya Brown held seminars.
The Get Benched program put two local girls with each team during the tournaments, giving them an insiders look at what it's like to be on such a big competitive stage. Finally, 22 area women presented awards, their accomplishments noted prior to handing out player of the game honours.
Upwards of 400 young girls were able to participate in the special events, while the press release also said more than 7,500 fans – many of them female – packed the Snake Pit over the course of the championships.
Leave a Reply
You must be logged in to post a comment.