By RYAN MCCRACKEN on May 27, 2020.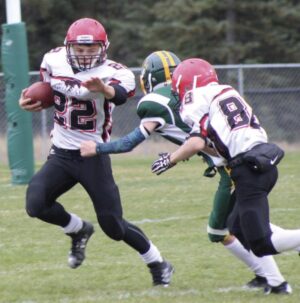 SUBMITTED PHOTO - Chayce Davies (left) runs with the ball in an undated photo while brother Haedyn (right) blocks for him. Both brothers have committed to play for the Calgary Colts junior football team.
rmccracken@medicinehatnews.com
A year away from competition couldn't keep Chayce Davies out of the Canadian Junior Football League.
The 19-year-old Medicine Hat product stepped away from the gridiron game to focus on his education this season. But Davies says he never lost sight of a potential return to the game, and this weekend the Calgary Colts announced he has committed to play at the next level in the fall.
"I got it done. I worked hard for the whole year and I think I'm probably going to be in better shape than I was in high school," said Davies, who hopes to play at running back in Calgary. "I'm excited to go up to Calgary and compete and contribute to a competitive team."
Davies spent this past year studying kinesiology at Medicine Hat College. While he plans on taking a semester off to focus on his CJFL transition while navigating the COVID-19 pandemic, Davies says he hopes to complete his bachelor's degree and pursue medical school in the future.
"I think I'll be taking the semester off then hopefully I'll get right back at it in January," he said.
Davies becomes the second member of his family to commit to the Calgary Colts this month, as younger brother Haedyn signed with the team two weeks prior.
"We decided to stay closer to home and we both just decided to go there. We kind of did it at the same time, it just took a little longer for them to announce me," said Chayce, adding he and Haedyn have been training together through the pandemic. "We've been doing our best – going for runs, the stationary bike, doing some training in the field, just trying to stay in as much shape as we can to go into the season."
Chayce and Haedyn spent two years together on the Monsignor McCoy Colts football team before Chayce graduated in the spring of 2019. In his Grade 12 season, Chayce earned the school's title of unsung hero, while Haedyn picked up outstanding back honours as a Grade 11.
"People say siblings have connections. Me and my brother pretty much were on the same page at all times," said Haedyn. "Ever since we started playing football, we were playing football together. Just knowing that we can go play football after high school together and live together in Calgary, it's nice."
Haedyn was fortunate to experience quite a turnaround season with the Colts this year, closing out the campaign with a 5-4 record. Chayce wasn't quite so lucky – winning just one game against Pincher Creek over his three years with the team. It was a gruelling test of adversity, but one Chayce says left him with the leadership skills he'll need to thrive in the CJFL.
"I tried to be a good leader for them growing up, whether they were small kids in Grade 10 or even in Grade 11," said Chayce. "A lot of the kids were down a lot of the time because we weren't winning a lot. We weren't scoring touchdowns, let alone winning. You've got to learn how to keep those guys' heads up and keep them going forward. I think being a good leader is going to carry over into junior football and maybe university."
Despite making his exit just a few months before the team's rebuild began to produce results, Chayce says it was incredibly rewarding to see the Colts finally gain some ground this season.
"I'm just super happy to see that everything turned around. That's the high school I graduated from, I like to see them succeed. It was just good to see, I went to every game," said Chayce, adding kudos to the new coaching staff at McCoy – who he never played under – for helping right the ship this season. "They turned that program around and I can't stress enough how happy I am for the program over at McCoy. It's fantastic."
Leave a Reply
You must be logged in to post a comment.