Team bonds over bottles
By RYAN MCCRACKEN on May 21, 2020.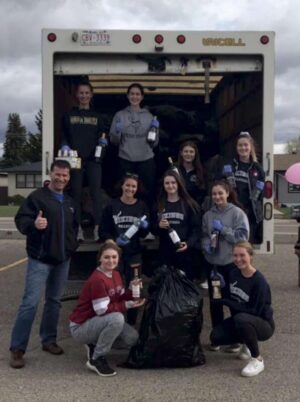 SUBMITTED PHOTO - The Crescent Heights Vikings senior girls volleyball team recently raised $3,730 for the Medicine Hat and District Food Bank through a bottle drive.
rmccracken@medicinehatnews.com
The Crescent Heights Vikings senior girls volleyball team may not be in class or on the court, but they've still been out in the community making a difference.
In the face of a global pandemic, the high school squad combined their efforts in a bottle drive fundraiser and collected a total $3,730 for the Medicine Hat and District Food Bank.
"The idea was initiated from one of my volleyball players, Julia Forsyth," coach Scott Galloway said in a message to the News. "I thought it was a fantastic idea and quickly put it out to the rest of the members of our senior girls volleyball team at CHHS and they immediately jumped on the idea."
The team was split up into groups of two or three, and each filled one-hour shifts at the school while wearing plastic gloves and face masks supplied by Redcliff Pharmasave. Members of the community showed up in droves to donate their empties, and before long the team needed another truck.
"The community response was overwhelming as there was a constant stream of vehicles that pulled into the school parking lot to drop off their bottles," said Galloway. "We started at 12 and by 1:30 I had to phone Shamrock (bottle depot) to bring another truck as we had filled the first one already. I had to call for a third truck later."
Galloway added he was thrilled to see his players band together in support of a cause during such a trying time for both students and athletes, as well as the way the community stepped up to support the initiative.
"I was very proud of my team members to be able to put aside their own struggles and hardships they are dealing with during this time of isolation where they can't be at school with their friends, enjoying school sports and grad activities," he said. "They came together to do something positive for their community and I know it made them feel good at the same time."
Leave a Reply
You must be logged in to post a comment.