By RYAN MCCRACKEN on May 16, 2020.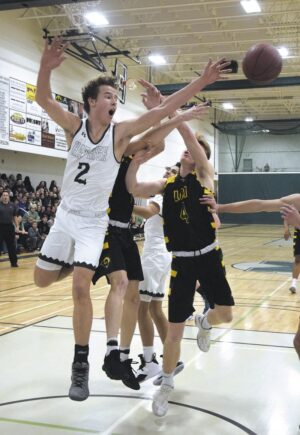 NEWS PHOTO SEAN ROONEY - Hat High's Ethan Egert (2) reaches for a rebound in the varsity Mohawks' game against LCI Dec. 4, 2018 at Hat High. Egert is headed to the University of Alberta to play basketball.
rmccracken@medicinehatnews.com
Ethan Egert has joined up with the University of Alberta's Golden Bears. 
The graduating Hat High Mohawks basketball player committed to the Golden Bears earlier this month after closing out his high school career with school records in points, rebounds, assists and steals.
"It was a great three years. I really enjoyed my time with the Mohawks," said Egert. "I'm definitely excited to move forward in my basketball career and take the next step."
The 6-foot-8 forward led the Southern Alberta High School Basketball League with 377 points at Hat High this year, averaging 26.9 per game over the course of 14 contests. He now joins a Golden Bears squad that topped the U Sports Canada West Division with a 19-1 record. They finished fifth at nationals.
"U of A, they're one of the top schools in the country. They've got great education programs out there, great facilities, great coaching staff," said Egert. "I'm pretty excited. It's a bigger city than Medicine Hat so that will be an adjustment but I think I'm ready. It's definitely going to be an adjustment, but it's top in the nation type of stuff out there, so I think I'll adjust to it pretty quickly."
Egert also played on Hat High's volleyball team for the past three seasons and was set to compete in track and field this year, which he says all played a hand in preparing him for the jump to post-secondary. 
"It kind of opens your eyes a bit," he said of playing multiple sports. "Basketball is my No. 1, but I can't take away from volleyball. I loved Mr. (Mike) Jerrid as a coach, I really like the team, the sport is fun. They're two different games, so it kind of gives you different views so you're not so one-dimensional."
Egert added he's faced quite a journey over his past three seasons with the Mohawks. Looking back to his rookie year, Egert admits it was at times overwhelming, but the support of his teammates and coaches helped him develop his game and reach new heights. 
"In Grade 10 I was definitely really nervous," he said. "I was on senior and I was kind of scared, honestly. But (coach Chad) Watson had confidence in me, and he knows what I can do. He really gave me the freedom to do what I can do, and I guess that kind of showed with the records."
The COVID-19 pandemic began prompting the cancellation of sporting events across the world in mid-March, just as Egert and the Mohawks were entering their second game of zone championships. While it brought his final high school season to an unexpected end – forcing him to turn around and return home in the middle of a drive to Lethbridge for zones - Egert says he was still left with a surplus of unforgettable memories from his time on the court with Hat High.  
"It went by super quick. I have very fond memories of a lot of things, from Grade 10 being the young guy on the team, to now being the old guy and a leader," said Egert, who will enter a Bachelor of Arts program at U of A with the goal of pursuing business. "I definitely have a lot of great memories and they're going to stick with me for the rest of my life. The memories I made with the team and coaches is stuff you can't forget."
Leave a Reply
You must be logged in to post a comment.