Ready to roll: Drag strip set for May 29 opening races
By RYAN MCCRACKEN on May 15, 2020.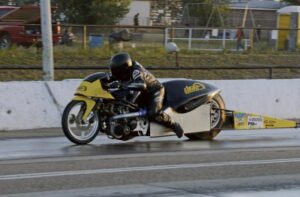 NEWS PHOTO RYAN MCCRACKEN - Matt Mackay-Smith tears down the strip in the Sept. 7, 2019 in Medicine Hat. The local drag strip plans to open its season without spectators May 29.
rmccracken@medicinehatnews.com
The Medicine Hat Drag Racing Association will kick off the season as planned at the end of the month, but the high-octane action will be restricted to participants only until Stage 3 of the provincial government's relaunch strategy.
MHDRA president Dave Toth says the season will officially begin on its original date of May 29, with the season-opener set to run through the weekend. It may not have the same atmosphere with a stretch of empty stands, but it'll likely sound almost the same with drivers itching to put the pedal to the floor.
"Everybody was all prepared for doom and gloom until the fall, and this gives a little ray of sunshine for people to get out and have some fun," said Toth. "Unfortunately, we won't get spectators in until phase three probably, which at this point, we don't know when that will be."
Toth says the season will move ahead under the provincial government's Stage 1 guidelines for outdoor recreation, which limit groups of people to 15 and requires individuals from different households to remain at least two metres apart.Â
"We'll try to eliminate as much of the hands-on touch as we can, that's the main goal here," said Toth.Â
Thankfully, that shouldn't be an outlandish request in the world of drag racing. Every driver comes with their own vehicle and equipment – including a facemask – and lanes put competitors a safe distance away from one another while tearing down the strip. The only place it will significantly impact drivers is in the pits, where socializing will be limited.Â
"If you're going to stay out there overnight there will be no group gatherings, everyone is going to have to stay in their own areas," said Toth. "It's going to be a learning curve for us, for the racers, for everybody."
Toth added all procedures and guidelines for drivers will be posted at mhdra.com and on the MHDRA's Facebook page in the next few days.
Leave a Reply
You must be logged in to post a comment.