Team celebrates grads with drive-by
By RYAN MCCRACKEN on May 14, 2020.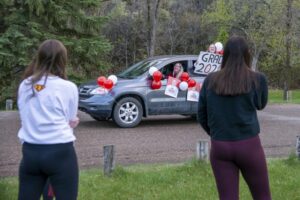 NEWS PHOTO RYAN MCCRACKEN - Cars cruise past graduating players from the McCoy Colts varsity girls basketball team in a drive-by celebration on Wednesday at Kin Coulee Park.
rmccracken@medicinehatnews.com
The Monsignor McCoy Colts varsity girls basketball team was unable to play for a provincial title due to COVID-19, but the pandemic didn't prevent the squad and its fans from honouring graduating players in a drive-by celebration on Wednesday evening at Kin Coulee Park.
"It's definitely very special, especially seeing all the JV's here, it makes the team feel like a team," said graduating guard Brooklyn Schafer. "It makes everyone feel connected again."
Schafer is one of eight graduating players on her team, alongside Kyanna Kolody, Reese Bourassa, Mikayla Clarke, Jaden Brown, Emily Klein, BJ Jul and Hailey Hoffart. The group stood six feet apart and watched as dozens of cars – decked out in red and white, many bearing photos of the graduating players and all blaring their horns in celebration – made a few trips around Kin Coulee. 
"Honestly, they're great representatives of our school and what our program is about," head coach Janice Laing said of her Grade 12's. "They are awesome and we're going to miss them so we wanted to do something to kind of honour them and let them know that they're valuable and we are going to miss them. We feel bad for how this whole year has gone down."
The Colts clinched the league championship on March 5 with a 63-44 victory over the Eagle Butte Talons – capping off an evening of three straight title wins by the varsity boys and both the varsity and junior varsity girls.
McCoy was set to host zones the following week, but the spread of COVID-19 prevented them from competing. 
"Some of us have been playing together since Grade 7 and middle school, so we've been pretty close," Schafer said of her graduating class. "Just to finish the season with them is definitely great, even if it didn't finish the way we wanted it to, it definitely was with the right girls which made it even better."
Leave a Reply
You must be logged in to post a comment.