By Medicine Hat News on March 24, 2020.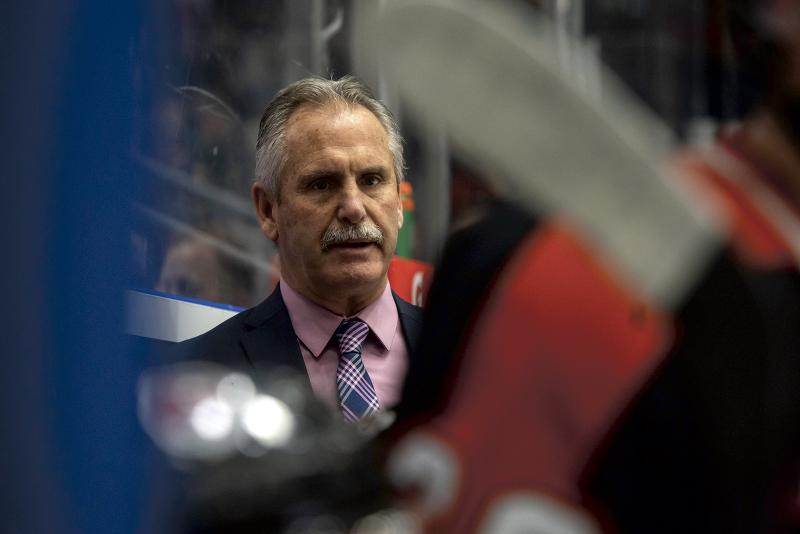 NEWS PHOTO RYAN MCCRACKEN - Medicine Hat Tigers head coach Willie Desjardins monitors the bench during a Western Hockey League game against the Saskatoon Blades Nov. 30, 2019 at Canalta Centre.
Faced with an unprecedented situation, the Canadian Hockey League did what was previously unthinkable: cancel its playoffs including the Memorial Cup.
The decision was made official at 4 p.m. Monday, a week after Medicine Hat Tigers players had been sent home and four days before the WHL's post-season was originally set to begin.
"Well I think disappointment is your first reaction," said Tigers general manager and head coach Willie Desjardins. "The players worked hard, I think we had a good team, I thought our team was getting better.
"I think saying that though, we recognize for sure that the safety of our players and our fans is the most important."
With the COVID-19 pandemic increasing in severity daily, and aware of the minutiae that would have to be overcome to finish the season, the country's three major-junior hockey leagues put out a statement ending any chance of that happening.
"Unfortunately, given the troubling state of our global climate and public welfare, there is still too much risk and uncertainty to move forward in good conscience," the statement read in part.
"We look forward with the hope that next season will provide new opportunity to celebrate, and that the Memorial Cup will be presented at our prestigious championship, hosted by the OHL, in May, 2021.
The Memorial Cup, first presented in 1919 in remembrance of soldiers from World War I, will not be awarded for the first year in its 101-year history. Kelowna was to host this year's four-team tournament beginning May 22.
Desjardins felt everything changed once the NBA put its season on hold the evening of March 11. The NHL followed suit the next day, as did the CHL.
"We were getting ready for our series with Swift, the NHL said they're looking at suspending," said Desjardins, whose South Alberta Hockey Academy was also put on hold when schools shut down. "Well as soon as that happened you knew this is way more serious, things would be affected in our league too.
"I appreciate the fact they waited until they could get more information before they outright cancelled the season. It would've been disappointing if bang, all of a sudden they cancel the season three weeks ago. You would have felt a little bit cheated.
"But you don't feel that way now. You recognize how serious it is, it just takes one person to get sick and it changes everything."
Among the many things cut short by the decision is a Tigers season which Desjardins felt still had plenty of potential. At 41-19-2-1, Medicine Hat took a six-game winning streak into its final five regular season games. Only the Edmonton Oil Kings (42), Portland Winterhawks (45) and Everett Silvertips (46) had more wins in the WHL.
"We felt good, we were getting healthy," said Desjardins. "We felt we were building for the playoffs."
The league made no announcement but the Scotty Munro Memorial Trophy appears destined for Portland, which edged Everett by a point for the best overall record.
Tigers captain James Hamblin finishes his final season with 92 points, 15 shy of league leader Adam Beckman of Spokane. The News requested an interview with Hamblin, but was told the WHL is denying all player interview requests.
Hamblin, Parker Gavlas and Dylan Plouffe were Medicine Hat's three overage players, their major-junior careers ended not with a win, a loss or even an injury but by a global crisis forcing a sudden change in everyday life for billions.
Hamblin played 324 regular season games in orange and black, tied with Mike Lay for fifth in franchise history. His 284 points (115 goals and 169 assists) are 13th.
Desjardins said player exit interviews would no doubt be difficult, especially since they won't be conducted in person. There was no thought to doing so prior to players being sent home last Sunday, because at that time there was still hope for the playoffs to take place.
"Some players are going to be really disappointed," he said. "We ask a lot out of our players, and they give us a lot. When they don't get a chance (to finish the season) it's hard for them.
"But they all understand too… they're not upset, they're just disappointed that given the right circumstances they would've had a chance to play."
All Desjardins, his staff and players can do now is prepare for next season – whenever that may be.
Leave a Reply
You must be logged in to post a comment.