By RYAN MCCRACKEN on March 20, 2020.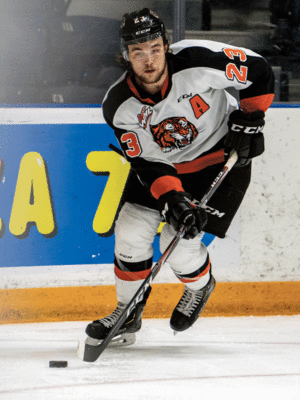 NEWS PHOTO RYAN MCCRACKEN - Medicine Hat Tigers centre Bryan Lockner carries the puck through the defensive zone against the Regina Pats at Canalta Centre Feb. 11, 2020.
rmccracken@medicinehatnews.com
Bryan Lockner knows his team can make some serious noise in the playoffs. All they need is a chance.
The Medicine Hat Tigers alternate captain had returned home to Windsor, Colo. by the time Wednesday's news dropped – that the Western Hockey League had cancelled its regular season. He'll remain in Colorado, mainly self-isolating, until a decision is made in regard to the playoffs. Until the COVID-19 pandemic is under control.
"It's tough but you've just got to think about the fact that the season could have a chance of being back on, and just staying motivated," said Lockner. "We're a playoff contender and we've got a chance this year."
With the regular season brought to an early end, the WHL awarded the final available playoff berth to the Seattle Thunderbirds – but there are still plenty of questions left to be answered in regard to a potential post-season. Will it be a standard playoff format? Will there be fans in the arenas? Will American and import players be forced to self-isolate for two weeks upon returning to Canadian clubs? That last question is one Lockner says didn't come up when the Tigers opted to return players to their families last week.Â
The News reached out to the WHL to inquire about a potential protocol for American and import players returning to Canadian teams in the near future, but did not receive a response.Â
"I'm sure they'll come up with some protocol, but they didn't tell me anything and nothing's been said," said Lockner. "I'm just staying self-isolated. I'm trying not to get out there because obviously Colorado is a pretty big virus area in the states. We've got a lot of cases, so I'm just trying to stay away from public places."
Lockner isn't alone. Tabby imports Mads Søgaard and Jonathan Brinkman returned to Denmark Thursday to wait things out, while American defenceman Nick Perna is back in Dallas and Lukas Svejkovsky is at home in Point Roberts, Wash.Â
Point Roberts may be landlocked to Canada and roughly a dozen kilometres off the coast of the mainland U.S., but Svejkovsky would still be subject to the same self-isolation recommendations from the Canadian government – unless those guidelines were to change by the time a decision is made in regard to the playoffs.Â
"They didn't really say too much about that, it's up to me in a sense," said Svejkovsky. "Obviously what's going around is pretty scary so my parents want me to stay home. There are more cases here in the Vancouver area than somewhere like in Medicine Hat, so I think I'm just going to self-quarantine for about a week or two and hopefully the virus starts getting better and we can start focusing on playing the playoffs."Â
Svejkovsky is in a uniquely difficult position living in the roughly 1,300-person exclave of Point Roberts. Svejkovsky says his family typically crosses the boarder on a regular basis to shop and socialize in Canada, however that border is now shut down to non-essential travel. Â
"I probably cross the border three or four times a day when I'm here, my parents too," he said. "We know all the border guards by name by now. I'd say we spend most of our time in Canada, whether it's at the rink or whatever. There's not a lot to do here, but there is a grocery store, there's one restaurant."
Thankfully Svejkovsky says he has no plans to leave the house any time soon, and a border task force has been developed to ensure all Point Roberts residents' needs are met.Â
For now, Svejkovsky and Lockner are both just focusing on the future and doing what they can to stay in shape.Â
"I've got a little set-up in my basement," said Lockner. "Just some free weights, a bench press. I've got a spin bike and an elliptical machine so I'll probably just be doing some in-house workouts. Also the team sent out some in-house workouts, a lot of body weight stuff like lunges and split squats."
Svejkovsky has a similar set-up at his house, allowing him to stay on top of the physical side of things. But with the whole world placed in a state of pause, maintaining mental conditioning is equally paramount.Â
"It's one of the most important things," said Svejkovsky. "I think all of us have to be preparing to come back for the playoffs and play, even though it might not happen. It still could happen so we've just got to think positively about that and hope we will be back. We've just got to stay in shape so we can be ready when we come back."
Aside from staying active and isolated, there's not much else athletes like Lockner and Svejkovsky can do, other than wait it out and hope their sport can resume play before the page is forced to turn to next season.
"It seems like every hour, every day, it's a different protocol," said Lockner. "It's just a day-by-day thing. There's not much we can do, we've just got to stand by and see what's going on."
Leave a Reply
You must be logged in to post a comment.