By Medicine Hat News on March 19, 2020.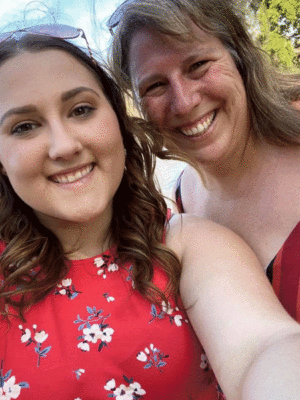 PHOTO COURTESY SARAH MICKEY - Sarah (left) and Sharon Mickey are seen in Australia in this undated photo. The Paralympic hopeful and her mom are trying to get home after Sharon's passport was stolen and the global pandemic changed their plans.
A Medicine Hat athlete and her mother are desperately trying to get home from Australia as the global pandemic forces increased travel restrictions and isolation to contain the spread of COVID-19.
When Sarah Mickey and her mom Sharon boarded a plane three weeks ago, the plan was to train, take part in a couple track and field meets and get the 21-year-old's disability classified so that she'd be eligible for this year's Paralympics in Tokyo.
Then Sharon's wallet – including her passport – was stolen. And as North America began to react to the pandemic, the Canadian government asked all citizens to come home immediately.
"We have an appointment with the consulate general (Thursday) in Sydney to get my mom an emergency passport," wrote Sarah in a text interview with the News Wednesday night. "We left Canada on (Feb. 28) which was before the virus was as widespread as it was. We felt safe in the beginning.
"Honestly I've been in a very stressful state this past week."
Unable to get through to Expedia, where they'd booked their original return flight for the end of the month, the Mickeys instead bought new tickets which would allow them to return home this Sunday.
They needed the tickets in part to get the emergency passport.
"It was incredibly difficult to try and prove my mother's identity as she had the majority of her identification inside the wallet that was stolen," wrote Sarah.
Waiting is no vacation anymore either, as they don't want to get sick and risk being denied a seat on the plane.
"I'd like to say we are making the most of our time here but since they made the restrictions that they did on Monday we've basically just sat in our hotel room."
On the plus side, Sarah did win at the lone meet she competed in. On March 5 her seated discus throw of 18.61 metres topped the field at the Queensland State Athletics Championships in Brisbane.
It was far from the 20.98 she threw to finish fifth at the World Para Athletics Championships in Dubai back in November, but typical of an early-season performance.
Far more important now is just getting home, not to mention what the pandemic threatens to do to the Olympics and Paralympics. No decisions have been made other than the IOC telling athletes that qualification procedures could be altered.
Athletics Canada has cancelled its indoor championships but the Olympic and Paralympic trials set for June 25-28 in Montreal are still currently a go. The Paralympics are scheduled for Aug. 25-Sept. 6.
Also good news is that while Canada has suspended travel for non-citizens into the country, there's no such restriction on citizens – though they're expected to self-quarantine for two weeks once they're home.
"The soonest we were able to get us both on the same plane sitting in economy isn't until Sunday," wrote Sarah. "We are now just crossing our fingers holding onto hope that we're able to board that plane and get home."
Leave a Reply
You must be logged in to post a comment.