History on Cubs' side in series with Kings
By Medicine Hat News on February 13, 2020.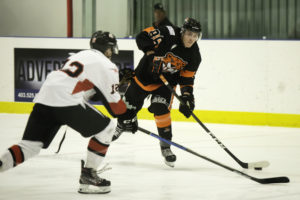 NEWS FILE PHOTO
Medicine Hat Cubs forward Cooper Hilworth takes a shot on goal while Airdrie Techmation Thunder forward Kory Zinck defends during a Heritage Junior Hockey League game at the Kinplex on Sunday, Dec. 8, 2019. The Cubs open their first round playoff series against the Strathmore Wheatland Kings tonight, 8:15 p.m. at the Kinplex.
It's a series the Medicine Hat Cubs didn't want to play in, but one that on paper they should win.
Strathmore's Wheatland Kings have every intention of reminding the provincial junior B hockey championship hosts that their first-round Heritage League series is, indeed, played on the ice.
The Cubs host the Kings in Game 1 of the best-of-five series tonight, 8:15 p.m. at the Kinplex. The series shifts to Strathmore Friday, returns to Medicine Hat Sunday for a 2:30 p.m. start, with Game 4 (Tuesday in Strathmore) and Game 5 (Wednesday in Medicine Hat) if necessary next week.
After losing out on a first-round bye to Cochrane this past weekend, the Cubs refocus on the goal they started the campaign with – to get further than they did last year. Medicine Hat swept the Kings in a best-of-three first round series in 2019, then pushed rival Coaldale to overtime of Game 7 in the second round.
Although the Cubs have a bye to provincials in April, they'd rather earn a spot as Heritage champions.
Head-to-head, the Wheatland Kings haven't beat the Cubs since Oct. 28, 2018, a stretch of eight games. But the margin this season was slim, including a 5-4 win Jan. 26, a 5-3 win Jan. 25, a 5-2 win Dec. 21 and a 4-2 decision Oct. 5.
At 25-11-2, Medicine Hat finished third in the South Division while Strathmore's 12-25-1 record was sixth.
Garret Vander Ploeg led the Kings with 20 goals and 21 assists in 37 games, with overager Kody Hammond's 32 points second. Jayden Heindricks had 15 points in eight games after returning home following two seasons in Golden, B.C.
As for the Cubs, overager Mason Fischer's 29 goals and 30 assists in 34 games have him fourth in league scoring, while Chandler Aleman's 47 points also crack the top 20. But injuries to goalie Dawsen Savage and captain Tavin Stadnicki put some extra pressure on the team – both aren't expected to play in the series.
Leave a Reply
You must be logged in to post a comment.