Playing with the big leaguers
By Medicine Hat News on January 14, 2020.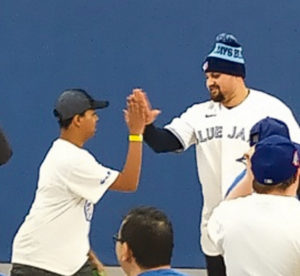 SUBMITTED PHOTO
Dylan Symmonds (left) high-fives Toronto Blue Jays' Rowdy Tellez in Calgary Saturday.
In the two years he's been involved with Challenger Baseball, Dylan Symmonds has never shied away from big moments.
When CBC needed someone to interview in 2017 when the game was showcased as an exhibition during the Little League nationals in Medicine Hat, Symmonds was ready.
Now 16, he got to hang out and play ball with members of the Toronto Blue Jays this past weekend in Calgary.
"There were some mini games, catching and hitting the ball," said Symmonds of his experience with the Jays' Winter Tour stop.
"When we found out about it he was non-stop excited about it until the event," added his dad, Robert. "The whole drive up there, all through the event, all the way back, couldn't get the smile off his face."
Challenger ball is a modified setup to allow kids of all ability levels to experience the game, whether they've got intellectual challenges like Dylan or physical ones, or both. In Medicine Hat, the local group meets every Saturday from May to late June.
The Jays Care Foundation and TD Bank each donated $15,000 to the national program as part of their tour stop.
Jays players Cavan Biggio, Danny Jansen, Rowdy Tellez and Trent Thornton plus ex-Jays J.P. Arencibia and Ricky Romero were on hand, signing autographs and interacting with the 40 Challenger invitees from across the province.
Dylan said the experience has him excited about getting on the field for real this summer. The bat he got signed by all six Jays will serve as a reminder of the once-in-a-lifetime opportunity.
"We're going to put it in a shadow box with a Blue Jays baseball and he can remember this for the rest of his life," said Robert.
Leave a Reply
You must be logged in to post a comment.