By Medicine Hat News on January 9, 2020.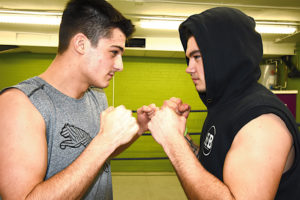 NEWS PHOTO SEAN ROONEY
Tristan Deveau (left) and Janick Lacroix pose for a photo Wednesday at the Medicine Hat Boxing Club. Both will be in action during the Nieman-Page Memorial and Alberta Silver Gloves tournaments this weekend at HomeStay Inn and Suites Saturday and Sunday
It's not as though Tristan Deveau doesn't know what to do in a boxing ring.
It's just that his training partner regularly challenges for national titles.
The 18-year-old has skills in spades, works his tail off at the Medicine Hat Boxing Club three nights a week and almost every night at a gym.
But with Janick Lacroix taking up much of the spotlight locally, he admits he's motivated by his friend's success.
"I used to look at where I was like I find people don't notice me as much," said Deveau, who's eager for this weekend's Nieman/Page Memorial and Alberta Silver Gloves at the HomeStay Inn and Suites. "But now I go to tournaments, people are looking at me, they'll come say hi to me. It's nice that it's not just him now.
"He definitely deserves what he's got, I'm just trying to catch up to him."
Deveau has wins over provincial champions this season, but he's never actually competed at provincials. Lacroix, of course, was a national champ in 2018, a silver medallist both at nationals and the Canada Winter Games this past year, and at 17 is set up for another big spring.
Yet the two compete at virtually the same weight class – Lacroix is moving up to 81 kilograms, while Deveau remains at 75 – and Deveau knows there are days he's better than Lacroix.
"In the gym, it's just back and forth, who can best each other," said Deveau. "It's nice to have that one person who pushes you past where you think you can be at. We have good days, bad days. Most of the days it favours Janick, but other days I come out better and we both give each other that when it happens."
So what's holding him back? For one, Lacroix was already a highly-accomplished athlete before Deveau even started at the local club. He might be older but not in terms of experience.
The other reason is between his own ears.
"I do have nerves before I fight," he said. "The coaches tell me 'you're sticking with Janick… you're winning some days, why are you so nervous to be fighting these guys that aren't national champions?' And I couldn't tell you the answer.
"I don't really like big tournaments. I shine at club shows where they're close and I don't have to sleep in a hotel.
"It's hard. People think it's just all training, grinding out, that's all you have. But it is a big mental sport, if you go in thinking you're going to lose, you're going to lose. You might not be tired, you might be scared, and I feel like that's my biggest thing. I feel like I need to admit it to get over it."
That mature admission may yet pave the way for Deveau to take the next step and figure out how he can win at bigger events. Both Lacroix and his coach know it.
"He's very good, but he hasn't done what Janick's done," said coach Kerry Fahlman. "You've got to earn that. He could be a national champion, he's that good."
"He trains hard, he does push me," added Lacroix. "It keeps me trying to do better."
This weekend, both Deveau and Lacroix have equal billing on the official event poster being circulated. But there's no doubt they're pushing each other to greatness.
Lacroix will no doubt be the main event in most people's eyes, going up against Mohamad Mogabi of Lac La Biche in a rematch from last month in Edmonton, a bout Lacroix won in his first time as a light heavyweight. Deveau says he's beaten everyone coming in for his weight class, but he also used to lose to them when he was younger.
Other local boxers in action include Wyatt Grove, Drayton Valley, Mitch Carlson, Francis Ang and Jacob Walne. Carlson is making the move from a mixed martial arts background, Ang has more experience than most of the sub-headliners but the rest, as Fahlman put it, are fairly new to the sport.
Started 15 years ago in memory of Ev Nieman, the annual event added Bill Page's name following the fellow co-founder's death in 2016.
Leave a Reply
You must be logged in to post a comment.