Crews clean up city after record rainfall Saturday
By Medicine Hat News on June 30, 2020.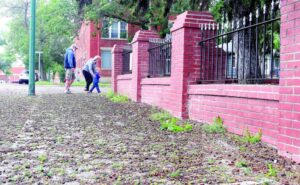 A carpet of pine needles, twigs and pinecones covers the sidewalk near Robertson Park on the Southeast Hill in Medicine Hat on Monday, two days after pea-sized hail pelted the city. Pictured: Mindi-Lee Meadows and Mark Mather escort little Eli Meadows toward the playground.--NEWS PHOTO COLLIN GALLANT
Intense hail and rain on Saturday evening caused "pockets of localized flooding" in north Medicine Hat as chopped-up leaves and twigs clogged storm drains, the city's municipal works department reported Monday as cleanup continued.
The intense downpour and burst of pea-sized hail lashed trees and set a record for the date, officially bringing down 13 millimetres (about one-half inch) of precipitation in about 30 minutes at the Environment Canada Weather station at Medicine Hat Regional Airport.
Areas in Crescent Heights likely received much more, according to city officials, which said the rain inundated the storm sewer system and crews were called out to clear clogs and monitor the situation.
"The north of the city was hardest hit and as you move south it seems to have been less and less," said Jeremy Petryschyn, superintendent of operations with municipal works.
Crews were still surveying the system Monday and the department reinitiated localized street sweeping activities to clear up the detritus.
Leave a Reply
You must be logged in to post a comment.