Creeks levels up due to rain, caution advised
By Medicine Hat News on May 23, 2020.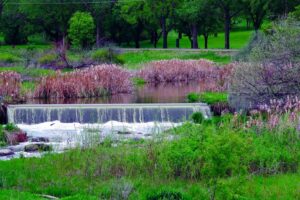 Water levels in creeks and in the South Saskatchewan River have risen with recent rainfall. The city is advising the public to be particularly cautious. Friday morning water gushed over the spillway at Kin Coulee Park.--NEWS PHOTO GILLIAN SLADE
The public is advised to use caution and avoid creeks around the city due to recent significant rainfall.
The parks and recreation department says a hazard in the Kin Coulee/Trans-Canada Highway tunnel trail has been identified and work will take place to correct that as soon as possible.
Alberta environment and parks website, showing water levels, indicates a significant increase in the water level at Reesor Reservoir near Elkwater, and a rise in the South Saskatchewan River in Medicine Hat although it is still within the expected levels for this time of year.
Seven Persons creek and Ross Creek in Medicine Hat had both risen sharply earlier in the week but have since subsided.
Leave a Reply
You must be logged in to post a comment.