Barnes goes to bat for HALO
By GILLIAN SLADE on May 23, 2020.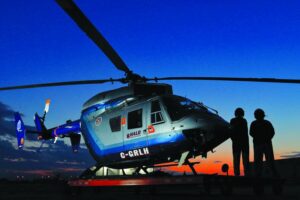 Cypress-Medicine Hat MLA Drew Barnes has asked his colleagues in the United Conservative government to provide temporary funding for HALO until a review on air ambulance services is complete. He has asked for an answer by Tuesday.--SUBMITTED PHOTO COURTESY MARK MENNIE
gslade@medicinehatnews.com
Local MLA Drew Barnes says he's expecting a government decision on Tuesday morning regarding temporary funding for HALO.
A week ago HALO announced it will close the helicopter medevac service in this region on July 1 without funding support.
Paul Carolan, chief operating officer for HALO, said it will stop using its twin-engine helicopter and return to using only a single-engine machine by the end of the month.
HALO has been unable to negotiate operational funding from Alberta Health and its local fundraising activities have been severely restricted during the COVID-19 pandemic. In all the years of operating there has only been a one-time grant of about $1 million under the NDP government.
Barnes, who represents Cypress-Medicine Hat, says he has been in consultation with the health minister, his chief of staff and EMS.
"I have indicated I would like to know by Tuesday morning that they will provide funding for HALO to continue until … a review is complete sometime in September," said Barnes, noting he feels this is essential.
Without HALO operating there will be a significant burden placed on volunteer paramedics in rural areas, not to mention an increased pressure on STARS to cover this region in a manner that it has not had to do before, said Barnes.
"For the safety of southern Albertans the right thing to do it is continue HALO," said Barnes, who believes the report will show the value of it.
"Let's ensure that HALO lasts until the report is done."
Leave a Reply
You must be logged in to post a comment.