Food bank says pandemic has been a learning experience
By RYAN MCCRACKEN on May 22, 2020.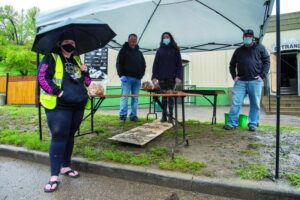 NEWS PHOTO RYAN MCCRACKEN (From left) Melissa Mullis, with the Medicine Hat and District Food Bank, waits in the rain with Scott Bobocel, Lisa MacDiarmid and Remco Vanderveen, of Iron Horse Energy, to serve the community outside of the food bank on Thursday, May 21, 2020.
rmccracken@medicinehatnews.com
The Medicine Hat and District Food Bank is adjusting to changing demands brought on by COVID-19.
Executive director Celina Symmonds says the ongoing pandemic has been a learning process for staff at the food bank, but they've been aided along the way by consistent support from the community.
"We'd like to thank our community, they've just been so amazing and supportive of us," said Symmonds. "I think what we've learned about the pandemic is there are just different needs than what there were previously. Our emergency hampers are less, but our need for kids, and getting outgoing school packages out to kids has increased significantly.
"It's just being aware of what the needs are and being out there as much as we can, so we can get a good indication of what people need, and then are there to provide it."
While the provincial government has started rolling out its relaunch strategy, Symmonds says the food bank is taking a "wait-and-see approach" in regard to public access. Those in need can still access all the food bank's services, however physical access to the building remains closed.
"We just know that food security will be very important moving forward so we're going to take a wait-and-see approach at this time," she said.
Symmonds added "numbers have stayed pretty steady" since the food bank received a surge when the pandemic took hold in March, but she anticipates the need for more volunteers in the coming weeks.
Leave a Reply
You must be logged in to post a comment.