City assures customers of continued safe drinking water
By COLLIN GALLANT on March 26, 2020.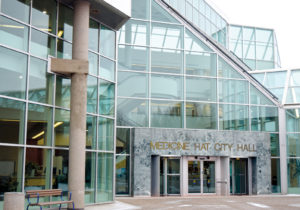 NEWS FILE PHOTO
Medicine Hat City Hall is seen in this undated photo.
cgallant@medicinehatnews.com
Utility officials are telling residents that the typical process of drawing and filtering water at the city's treatment plant is enough to quell fears about the COVID-19 spread.
"Conventional water treatment, which utilizes filtration and disinfection has been shown to inactivate COVID-19," stated utility commissioner Brad Maynes. "Our water treatment plant will continue to provide clean, safe drinking water in the community."
In the same release the city's utility department announced it is limiting crew and worker dispatches to emergency and urgent situations as determined by the department after discussions with the customer.
Sewer service is limited to emergency service only, which includes sewer backup – those callouts will continue – and protective gear will also be worn by any city worker attending, the release states.
Registration day postpones
A sign-up event for summer programs at city rec centres will be held when more is known about the potential to stage activities this summer.
All facilities are currently closed, but Tuesday was long scheduled to be registration day for summer offerings at the Family Leisure Centre, Crestwood Rec Centre and outdoors pools.
Now, the city parks and rec department has postponed that until more direction is given by Alberta Heath Services.
"While we want nothing more than to provide hope that summer activities will proceed as normal, we didn't feel it was appropriate to continue with registration in such uncertain times," said recreation manager Dave Young. "It is important that everyone focuses their attention on reducing the spread of the virus so that we can resume operations as soon as possible.
"We miss our patrons and look forward to serving the community again soon," added Young.
Leave a Reply
You must be logged in to post a comment.