Regina Co-op labour dispute leads to restricted fuel purchases in SE Alberta
By Medicine Hat News on February 6, 2020.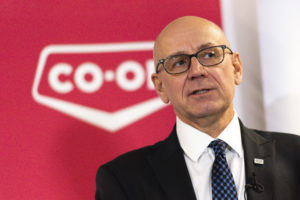 Federated Co-operatives Limited CEO Scott Banda speaks about the Co-op Refinery labour dispute during a press conference in Regina on Monday, February 3, 2020. THE CANADIAN PRESS/Michael Bell
Co-op card-locks in southeast Alberta and across the prairies put purchasing restrictions in place this week as a lockout and blockade at the Regina refinery lingers on.
As of Tuesday, card-lock customers will be limited to purchasing 100 litres of gasoline and 300 litres of diesel per day until further notice.
"Federated Co-operative Ltd., and the Co-op Refinery Complex would like to assure our customers that there is plenty of fuel available," read the statement posted by regional retailer South Country Co-op. "However, Unifor's illegal blockades are preventing us from getting it to you."
Unionized refinery workers, represented by Unifor, have been picketing the refinery and fuel depots since they were locked out in early December. That followed a strike vote in the contract dispute that revolves largely around pension plan issues.
Unifor issued a statement on Tuesday saying the blame for any disruption to business lays with Co-op for refusing to counter a union proposal during limited talks last week.
South Country operates card-locks in Redcliff, Dunmore, Oyen, Taber, Brooks, Bow Island and other locations in southeast and southwest Alberta. The restriction are also in place for Pioneer Co-op card-lock locations in southwest Saskatchewan.
The same restrictions are not believed to involve retail gas bars.
Leave a Reply
You must be logged in to post a comment.