By RYAN MCCRACKEN on June 26, 2020.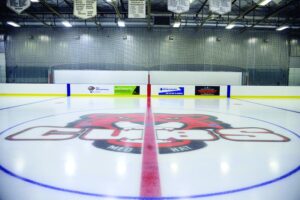 NEWS FILE PHOTO RYAN MCCRACKEN - The Medicine Hat Cubs announced they will not be competing in the Heritage Junior Hockey League for the 2020-21 season as the result of sponsorship issues brought about by the COVID-19 pandemic.
rmccracken@medicinehatnews.com
The Medicine Hat Cubs will not be icing a team this season.
The local junior B hockey club made the announcement in a Thursday release, stating financial concerns brought on by the pandemic, particularly diminishing sponsorship revenues, have forced a one-year hiatus from the Heritage Junior Hockey League.
"The sponsors that we did have, they more or less asked for a year off due to COVID-19," said Cubs president Richard Fritzler. "Unless things change – if there is a season or half a season, if we do get a sponsor or something we would probably look at it. But right now, the way things stand, no."
Fritzler added the Cubs will not be penalized for the decision, as HJHL teams were given the ability to opt out of the season without consequence should they experiencing financial hardship.
"We'll take the season off to regroup," said Fritzler. "We're looking at a couple options (for next year) that I cannot reveal right now."
HJHL president Gilbert Renaud says the league is still planning to go ahead with its 2020-21 season in accordance with Hockey Alberta and Alberta Health guidelines. As of Thursday, Medicine Hat was the first squad in the 14-team league to announce it was stepping away for the season.
"We are looking forward to (a season). More than likely it will happen, what it looks like? Who knows," said Renaud, adding teams that opt out of the upcoming season will not be able to reserve players for 2021-22, but will face no other penalties. "The Cubs, next year basically I believe all they'll be able to do is snag four 21-year-olds from other teams that are not keeping them, just like a new team."
The Cubs are coming off two of their strongest seasons in recent memory, having turned around a struggling ship over the past five years. They were even slated to host the Hockey Alberta Junior B Provincial Championships before COVID-19 forced its cancellation. The club has since parted ways with co-coaches JD Gaetan and Steve Leipert and had yet to hire replacements, but general manager and director of hockey operations Dave Kowalchuk and his scouting staff will remain with the task of rebuilding the team from the ground up.
"All four scouts and myself are going to continue to do as we would if we were playing. The plan is to recruit and plan for next year. It's obviously going to make it difficult for us because we're basically starting from scratch," said Kowalchuk. "I think it's a challenge, and I'm excited for the challenge. We're not going to back down and we're excited to come back next year."
As for players who had previously committed to return, Kowalchuk says they'll be encouraged to find new teams for the upcoming season, and if they wish to return to the Cubs in 2021 there will be a place on the roster.
"We're never going to hold anyone back from going to play. I think that's with everybody in hockey, you want the kids to play and have fun and enjoy their junior hockey careers," said Kowalchuk. "It'll be the next step for them to try to find a place, and we'll just do what we have to do to make a team for next year."
Kowalchuk added he believes the Cubs' announcement is simply the first domino to fall, as he expects other teams and organizations will follow suit.
"I know there are other teams in our league that are going to be in the same boat, but I think a lot of places are just kind of holding off and waiting to see what happens," he said. "In the long term here, I think you're going to see a lot more teams packing it in, a lot more leagues closing up for a year, and I think that's smart."
Leave a Reply
You must be logged in to post a comment.