McCoy's Davies moving on but staying a Colt
By RYAN MCCRACKEN on May 16, 2020.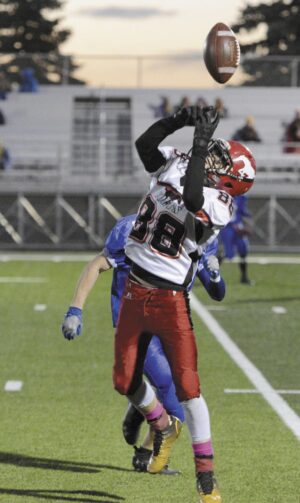 NEWS PHOTO RYAN MCCRACKEN - McCoy Colts wide receiver Haedyn Davies looks to make a catch during an Oct. 26, 2018 game against Crescent Heights Vikings at the Methanex Bowl. Davies has committed to play with the Calgary Colts.
rmccracken@medicinehatnews.com
Haedyn Davies will officially graduate from Monsignor McCoy High School next month – but he'll still be a Colt next season.
The McCoy-Eagle Butte Colts slotback recently committed to continue his career on the gridiron with the Canadian Junior Football League's Calgary Colts and says he can't wait to get a taste of the next level.
"It's just nice to know that football isn't over after high school," said Davies, adding he will be playing as a receiver in Calgary. "I've been playing football for so many years and it's nice to know that I'm going to keep playing, and it's not just going to be a high school thing like it is for a lot of people."
The 5-foot-10, 160-pound Hatter was a key factor in his team's 5-4 turnaround season under a new coaching staff led by Darrell Grass. While it didn't end with a championship, Davies says the winning campaign revitalized his love for the game and inspired him to carry it on past high school.
"When I was in Grade 11, I was honestly ready to quit football because of how bad our team was. I just wasn't having fun anymore," said Davies, who went without a win in the Rangeland Football Conference over his first two seasons at McCoy. "New coaching changes everything, especially in football. We turned it around and got a winning season in my final year and it was just a nice turnaround. I was tired of losing every game and going into every game knowing we were going to lose … Then everything just changed – I was back to having fun in practice, I was back to having fun in games, we were winning, no one fought with each other, everyone got along. It was just an amazing experience, honestly."
That turnaround helped forge the future football paths of at least two players, as Davies becomes the second Colt to commit to a CJFL team for next season behind running back Koby Laychuk-May – who signed on with the Vancouver Island Raiders last month. 
"When people see that people like me and Koby make it out of high school to play at the next level, it puts our school on the map," Davies said. "It just puts McCoy in a better position."
If social distancing measures lift by the summer, Davies says he will report for tryouts at the end of July with the hope of playing in Calgary's season-opener in early August. For now, he's just doing what he can to stay in shape through isolation. 
"It's mostly just working out, body weight exercises and going for runs, and I have a treadmill here at home," he said. "I'm just trying to do as much as I can with the amount of stuff that I've got."
Leave a Reply
You must be logged in to post a comment.