By RYAN MCCRACKEN on March 28, 2020.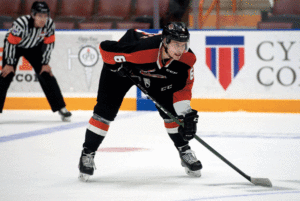 NEWS PHOTO RYAN MCCRACKEN - Medicine Hat Tigers defenceman Dylan Plouffe prepares for a faceoff during a game against the Everett Silvertips at Canalta Centre on Dec. 7, 2019.
rmccracken@medicinehatnews.com
It wasn't a long run, but Dylan Plouffe was still left with plenty of fond memories from his time with the Medicine Hat Tigers.
The 20-year-old defenceman joined up with the team in December through a trade with the Vancouver Giants and quickly established himself as a leader on the back end. While his hopes of a championship to close out his Western Hockey League career were dashed by the COVID-19 global pandemic, Plouffe says it was still an unforgettable ride in the Gas City.Â
"It was a lot of fun," said Plouffe, who was unable to comment on the cancellation of the playoffs due to a league mandate. "Everyone I met in the organization was super nice and welcoming when I first got there. I have nothing more to say other than it was a great time and everyone involved in the whole Tigers organization was nothing but the best for me."
Plouffe faced a sizable transition when moving from Vancouver to Medicine Hat. After spending the first 272 games of his career filling a highly defensive and structured role with the Giants, Plouffe says he was given considerably more free rein on the back end for his final 35 contests with the Tabbies. He ended up with 22 points as a Tiger, bringing him to 44 through his final season.
"It was just more freeing in the way we attack the game," said Plouffe, who finished his 307-game career with 32 goals and 113 assists. "It was a lot different than what I'm used to. It was really cool to play in and I enjoyed it a lot. I know it did take a little bit of time to adjust but it was a fun system to play."
Entering a new dressing room halfway through the season can be a daunting task, but Plouffe had the good fortune of already knowing his new captain in James Hamblin. The pair of Edmonton-area players teamed up to win silver at the Canada Winter Games in 2015. Fittingly enough, Hamblin wore the C for both squads.
"I got along with him really well (at the Canada Winter Games)," said Plouffe. "I don't know if it was coincidence, but he ended up being my captain again and it was fun. We had a lot of fun."
Hamblin says it was exciting to hear the team had inherited Plouffe in December's blockbuster deal with the Giants. While joining a new team mid-season can be a challenge, the outgoing captain says Plouffe handled it with poise, providing the Tigers with a level of discipline and physicality that helped them stay in the Central Division race until the season was ultimately cut short due to COVID-19.
"I knew what he was going to bring and he did just that," said Hamblin, whose Tigers finished second in the Central with a 41-19-2-1 record. "He's a great character guy off the ice."
Also aiding in Plouffe's transition was the fact he was traded in a package deal with 18-year-old forward Lukas Svejkovsky – a transaction that sent overage forward Tyler Preziuso and 19-year-old defenceman Trevor Longo to their home province of B.C. Svejkovsky ended up with 13 goals and 15 assists through 34 games with the Tigers this season – following up 10 points in 18 games with the Giants.
"I think he handled it really well," Plouffe said of Svejkovsky. "He's a very dynamic player, as a lot of people can see in Medicine Hat. He can do a lot with the puck and he's fun to watch. For me, just seeing him, I don't really know how to say it, but just kind of letting him do what he wants, you could see how good of a player he is and that was really fun to watch for myself."
Plouffe is playing the waiting game right now, hoping for the chance to carry on his career at a higher level next season, but isolation isn't making it easy. Thankfully, says Plouffe, he's been able to keep his mind active while relying on a home gym to remain in peak physical condition.
"I'm trying to read a little bit more than I have. I like reading books and learning new things and I'm trying to do that a little bit more often," said Plouffe. "I'm going to let it play out and see what happens. I'm not 100 per cent sure what's going to go on, but right now I'm just keeping myself active. I'm going to do my best to do whatever I can to be ready for whatever's coming."
Leave a Reply
You must be logged in to post a comment.