By RYAN MCCRACKEN on March 23, 2020.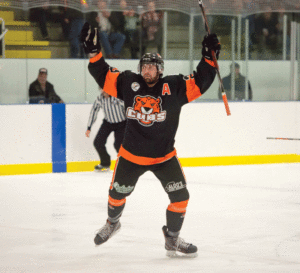 NEWS PHOTO RYAN MCCRACKEN - Medicine Hat Cubs forward Mason Fischer celebrates after scoring a goal against the High River Flyers in a Heritage Junior Hockey League game on Friday, Dec. 20, 2019 at the Kinplex.
rmccracken@medicinehatnews.com
Playing junior hockey as a 21-year-old was never part of Mason Fischer's original plan – so when the Medicine Hat Cubs forward had his final season cut short due to the spread of COVID-19, he opted to stay on the bright side.
After spending parts of four seasons across three Western Canadian junior A hockey leagues, Fischer made the decision to give it one more year with his hometown junior B squad. Although that year was brought to a screeching halt just a few weeks before the Cubs were set to host the Hockey Alberta Championship, Fischer says it was still an unforgettable last hurrah.
"I couldn't write it any better," said Fischer, who joined the Cubs partway through last season. "This 21-year-old year wasn't even supposed to happen, in my books. After I was 20 I was going to call it quits and be done then, but luckily I came back at a soon enough time to be able to play my 21 year. Being called up to go to the all-star game, having that experience was awesome, especially in my hometown. That was fun to have. Then being around such a good core group of guys with a good coaching staff and good support behind our backs from the fans – all the way up it was awesome to experience. It's one of those teams where there's not a weak link. Everyone's close and has one goal in mind."
While the Cubs were eliminated from the post-season with a Game 7 loss to the Cochrane Generals in the Heritage Junior Hockey League's Southern Division semifinal, they were just about to start prepping for provincials when the world began shutting down public events.
"It's definitely a tough thing to hear," said Fischer, now focusing on his career as a sales consultant with City Chrysler. "You've got situations that arise that you have no control over, and unfortunately this is one of those things that unfolded."
Looking back, while a heartbreaking way to close things out, Fischer says he was thankful that his father opted to make the trip out to Cochrane for Game 7 – a night that ended up being his last in junior hockey.
"He was banking on just watching my last games in the Hat here but he came up, made the trip," said Fischer. "It was nice to end off on a good note."
Perhaps the most difficult aspect of the situation is that the Cubs did not know it was their last game on the ice as a team. For Fischer and fellow graduating players Tavin Stadnicki, Mackenzie Fritzler, Josh Schafer and Tristan Stensrud, it was literally over before they knew it.
"It's unfortunate that we weren't even able to have the banquet this year. Some of this stuff you don't think about until it starts getting canceled," said Fischer, who had 29 goals and 30 assists in 34 games this season. "All the best to those guys."
His season-plus with the Cubs capped off a nomadic junior hockey career that started in Flin Flon and took him through seven teams across the Saskatchewan, Alberta and Manitoba Junior Hockey Leagues before finally landing back in the Gas City.
"It's a pretty memorable thing," he said. "You start off in Flin Flon, then getting sent to Lloydminster, it's always a chop-down. You're wanted by one and not wanted by the other. So you go there, try it out and see how it goes. Unfortunately I was sent around a few more times, to Kindersley and then Bonnyville and Dauphin and then to Virden, and then here. But I made tons of friends along the way and I wouldn't change it. Everywhere I was, I was welcomed into and I made lifelong friends on every single team."
While his final year will always be remembered for COVID-19, it will also stand out as a turning point in the Cubs' rebuild. Over the course of just a few seasons, the Cubs went from residing in the basement to challenging for the top, and Fischer says there's still plenty of room to grow.
"It's awesome to see. The Cubs, growing up it was always, 'Yeah let's go out and watch some goons skate around and do nothing.' Now you look at it, and hopefully it's changed for other people. It's actually a good organization. Dave (Kowlachuk) is doing a great job of turning it around, the coaching staff with Steve (Leipert) and JD (Gaetan) and the newly acquired two there," said Fischer. "You've got guys like Ethan Machan who are leaving their AA early to come play junior, to get that experience, wanting to play at the junior A level and playing with bigger guys. You have the Cubs who are able to hopefully continue on next year, and I'll be there supporting."
Leave a Reply
You must be logged in to post a comment.