By Medicine Hat News on February 13, 2020.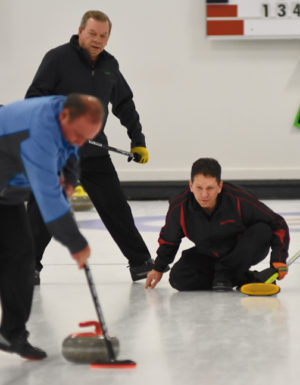 NEWS PHOTO SEAN ROONEY
Kraig Kohls delivers a stone in the final end of the Medicine Hat Curling Club's Senior Bonspiel Wednesday, with Ken Bachmeier looking on and skip Terry DeValter sweeping.
Terry DeValter doesn't do a ton of competitive curling anymore. He's too busy coaching the next generation, and sometimes the generation after that.
But on Wednesday at the Medicine Hat Curling Club, DeValter and his team reminded everybody they can still throw and sweep with the best of them.
DeValter, with third Kraig Kohls, second Ken Bachmeier and lead Lloyd Robinson won the Senior Bonspiel open division title, 6-3 over Bruce Perrin's team.
"You spend so much time with the kids, that I've neglected (competing myself)," said DeValter. "As you age you deal with your body starting to break down a little bit.
"I can't say enough about my doctor right now."
Steals in the first and fourth ends proved to be the difference in a tight affair. Trailing 4-3 without the hammer in the eighth and final end, Perrin simply ran out of rocks, though DeValter did need to make an open hit with his last to count two.
"It was one of those rock-for-rock type things," said DeValter. "They played very well. It's nice to be able to have the camaraderie and friendship, but at the same time still playing to win."
Perrin, with Blaine Renner, Bill Standish and Steve Mowers, had the same 3-0 record as DeValter to reach the 16-team final. Perrin admitted his semifinal win was a doozy, 8-7 over Liz Unrau after trailing 7-3 in the seventh end. They scored three, then stole two to earn the comeback win.
But even though both teams were consistent in the final, DeValter was just that little bit better.
"Ken's going to be 80 pretty soon here, they still play extremely well," he said. "Kraig has been with me, oh my gosh I think it's 30 years. We feed off each other, so it's really good."
Sheila Rumberg, with Bev Bischoff, Dee Cowan and Arlene Seitz defeated the Art Scott team 9-0 to win the B final. Defending champion Harvey Moch (with Leon Moch, Robert Jensen and Milt Landsiedel) beat Glen Smeby's foursome 7-4 for the C title. In the D it was Bing Sulz, Dwight Pahl, Bruce Stuber and Mario Biemans beating Unrau. And in the E, Cal Hauserman (with skip Glen Nunweiler, Celine Linfoot, Ylonda Jordheim and Deb Burton) defeated Roger Bouchard 8-5.
The masters division was won by Ted Ganden, Gerry Munro, Mell Durr and Don Borrowman. They won 7-4 over Brian Moat's team. Carol Eisenbarth (with Connie Silcher, Shirley Drefs and Vicky Landsiedel) beat Gary Haus 9-4 in the B final. Ray Aman won the C 7-2 over the Poersch-skipped team.
Leave a Reply
You must be logged in to post a comment.