By RYAN MCCRACKEN on February 13, 2020.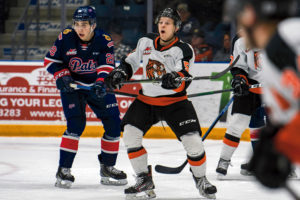 NEWS PHOTO RYAN MCCRACKEN
Medicine Hat Tigers' Elijah Brown is seen during Tuesday's game against the Regina Pats.
rmccracken@medicinehatnews.com
Elijah Brown is back to his crafty ways.
The 20-year-old Medicine Hat Tigers centre was out for 35 days after suffering a lower-body injury on Jan. 7, but 36 minutes into Tuesday's return, Brown put himself on the highlight reel with an impressive redirection on James Hamblin's hard pass from the point.
"Oh my, oh my. Jimmy is a good player," said Brown, who finished Tuesday's 7-0 victory over the Regina Pats with three points. "We made some eye contact and I knew he was giving me the puck. We were hyping each other up in the room after. It was a hell of a pass and I just tried to put it in the empty net. It was a good goal and it felt really good."
Tigers assistant coach Ryan Smith says Brown is always searching for ways to build energy with his creative talent, and Tuesday's goal was a great example of those unique abilities in action.
"There's not a lot of guys who can tip it in on their forehand from that angle," said Smith. "We urge him to a be a little bit harder when it comes to the offensive opportunities. He's so creative and he's so skilled that I think sometimes he out-thinks himself instead of just taking the play that presents itself. That's a situation there where, if he doesn't tip it – if he holds onto it – it doesn't go in or maybe he has to make a bit more of a special play. He is very good on the power play, he's very good on the rush. He's been like that his whole career, so he just needs the opportunities and (Tuesday) he had them."
The three-point night brings Brown to nine goals and 19 assists over 40 games. The 5-foot-10, 173-pound centre has been a key factor in Medicine Hat's success this season, contributing on both the penalty kill and the team's five-forward power play unit.
"He's a big part of what we do on a lot of fronts. He can play up and down the lineup, different positions, he plays on both special teams," said Smith. "He's a guy that's played on those special teams from the start of the year, so it was seamless putting him back into those situations, where sometimes you have to juggle guys around. He already knew the systems and what we want to do. I think the points were a bonus, but just to see him play and handle himself was more important to us."
With a lower-body injury, Brown says he was still able to focus on building strength above the belt in his time away from the ice. He added head coach Willie Desjardins was often checking in on his progress to keep him dialed in toward a comeback just like Tuesday night's performance.
"You've got to work hard. I know Willie would come in the weight room and check on me here and there to make sure I was going," said Brown. "That's the biggest point out of it all, you can't really sit back, you've got to work hard through your injury and you've got to come back stronger. It was good to hit the weights, get a little bit bigger shoulders maybe. That's part of it."
Brown – a 2000-born Edmonton product who missed 19 games due to injuries last season – added the watch-and-wait side of the recovery process is never easy, especially when the injuries begin to mount.
"It definitely sucks, and then with (Cole) Sillinger going out there, you want to get back in so there are less bodies out. But it is what it is," said Brown, adding Tigers athletic therapist Mikki Lanuk and the rest of the team's medical staff always ensure players are back at their best in a timely manner. "Mikki is always there for the guys. He does a hell of a job for all of us, so thanks to him."
Brown gave the Tigers a much-needed boost, but the team won't be back to full strength until Sillinger returns sometime next week. The 16-year-old Regina product sits second in WHL rookie scoring despite missing the past six games with an upper-body injury. The Tigers have also been battling the flu bug, and 18-year-old forward Nick McCarry was held out of Tuesday's game as a result of the illness.
"It's kind of hit a couple guys over the past 10 days. He felt bad (Monday), felt worse (Tuesday) so we just kept him away," said Smith. "(Sillinger's) starting to skate. We'll be cautious with him, but also we want to get him back in as soon as possible when he's cleared 100 per cent."
The Tigers (34-16-2-1) will be in Edmonton to take on the Central Division-leading Oil Kings (35-8-6-3) on Saturday at 7 p.m. The Oil Kings became the first team in the Eastern Conference to clinch a playoff berth following Regina's loss to Medicine Hat on Tuesday.
Leave a Reply
You must be logged in to post a comment.