By Medicine Hat News on February 13, 2020.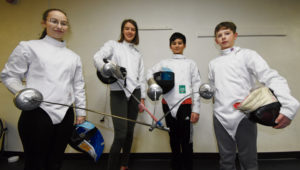 NEWS PHOTO SEAN ROONEY
AAA Fencing Club members (from left) Erin Woods, Sadie Van Dyke, Hudson Ma and Niklas Lehr pose for a photo Tuesday ahead of their trip to Airdrie this weekend for the Alberta Winter Games.
A total of 56 athletes from Medicine Hat and area will compete in the Alberta Winter Games in Airdrie this weekend, and one will help carry the Zone 1 banner.
Sadie Van Dyke was picked as one of two zone representatives who will lead their team at Friday's opening ceremonies.
She can't wait to begin the fencing competition Saturday, but the biennial games give her an opportunity she's not used to.
"Just fencing, being in a different environment and meeting new people (is exciting)," said the 14-year-old. "Everyone else, all the other sports are there too."
Related story: Hockey players excited to compete at games this weekend
An estimated 1,900 athletes will descend on Airdrie for four days, with the competition wrapping up Monday. Van Dyke is among five AAA Fencing Club members who made the cut from zone tryouts last year, the others being Erin Woods, Hudson Ma, Niklas Lehr and Korben Johnson.
Coach James Sheardown noted with Ma, Lehr and Johnson all just 12 years old, it's among the youngest contingents his club has ever sent to the games. But no matter – it's all good experience even if they're matched up against 16-year-olds like Woods.
"Having a team bonding moment is very important to me," said Ma, who started fencing when he was eight.
The fencers will largely know their competition, Medicine Hat having hosted provincials last year. Aside from being part of the larger multi-sport games – fashioned after the Olympics – the biggest difference is that there's a team event this weekend in addition to individual medals up for grabs.
"The team event will be scary," said Van Dyke, who specializes in foil. "It has to be very strategic, like who's going to be the anchor, who's going to be more defensive against what person."
Ma is entered in sabre, Woods and Lehr in epee and Johnson in foil. Ma figures he'll be shorter than his older competition, so forget having a reach advantage.
What to do instead?
"A lot of them are going to be like basketball players, towering over me," he said. "For most people, you've got to just get low and get in."
Van Dyke says she's been working on new strategies, important given she sees most of her opponents frequently at tournaments throughout the year.
"Mixing things up, trying to learn new things of ways to attack differently, or switch things up," she said.
The sport with the largest group of Medicine Hat representation is ringette, where the Zone 1 team includes 14 local players. The boys futsal team features 10, girls futsal has four.
Seven wrestlers are going, as well as six hockey players, four gymnasts, four judokas and a pair of badminton players.
Medicine Hat and area athletes/coaches listed as going to the Alberta Winter Games this weekend in Airdrie:
Badminton – Alan Janzen (Bow Island), Taryn Smith (Bow Island).
Fencing – Korben Johnson (Iddesleigh), Hudson Ma, Niklas Lehr (Cypress County), James Sheardown (coach), Sadie Van dyke, Erin Woods.
Futsal boys – Thomas Kowalchuk, Caden Lucas, Hudson Mastel (Dunmore), Heath Mcleod, Brody Miller, Irman Omerovic, Damir Omerovic (coach), Kenan Omerovic, Cohen Plant, Kolton Redpath, Devin Simon (Dunmore, coach), Levi Vargas.
Futsal girls – Rayne Bueckert, Emersyn Grudecki, Milah McCarty, Eva Ricken, Allan Siwela (coach).
Gymnastics – Olivia Chenard, Aubri Krassman, Eva Paniti-Meyer (coach), Gemma Snazel, Ria Thacker (Bow Island).
Hockey – Tate Bowal, Cole Fisher, Josiah Jackson, Slade McFadzen (Redcliff), Ryan Miller, Cash Olson (Redcliff).
Judo – Nathanael Henderson, Judah Kurpjuweit (Cypress County), Malakai Kurpjuweit (Cypress County), Jack McAlpine (Redcliff).
Ringette – Sydney Anderson, Bree Becker, Sydney Carlson, Loralee Eastland (coach), Sheridyn Herman (Cypress County), Kylie Kallenberger, Dimitria Karamanos, Allison Mason, Delaney Mastel, Amanda Robinson, Marty Robinson (coach), Marley Rose, Ashlyn Seale, Marin Sinclair, Andie Suhai, Jaida Wallis.
Wrestling – Jaxin Cross Child, Victoria Dalziel (coach), Cassie Fischer (coach), Kiana Ivey, William Kozakewich (Dunmore), Casey Leblanc, Joshua Lovis, Kimberley Maine, Nathan MacKinnon.
Leave a Reply
You must be logged in to post a comment.