By Medicine Hat News on January 14, 2020.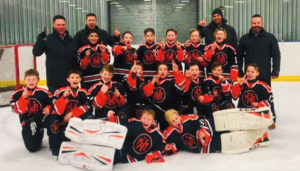 SUBMITTED PHOT
The Medicine Hat Black atom team celebrates its tournament win on home ice Sunday.
It would've been impressive enough had one of Medicine Hat's atom hockey teams won their home tournament this past weekend.
But with two tiers and thus two sets of gold medals to hand out, both Hounds White and Black teams finished as champions.
On Sunday in the Tier 1 division final, Hounds Black beat a team from Red Deer 4-3, the winning goal coming with less than three minutes remaining.
Medicine Hat never trailed in the final, following a 4-3 semifinal win over Sylvan Lake earlier in the day. Hounds Black was first after the round robin as well.
Hounds White took the Tier 2 final by a 4-2 count over league rival Picture Butte. After an undefeated round robin they iced Airdrie 11-2 in the semifinal, only to earn a tough match with top spot on the line.
Down 2-0 at the first intermission, Medicine Hat tied it with six minutes to go in the third, got the game-winner with 47 seconds left and added an empty-netter.
Bantam AAA
Defenceman Josh Van Mulligen helped lock down a 2-1 overtime win for his team in the Alberta Major Bantam Hockey League's all-star game Saturday, then returned to score the only goal for his team in a home game Sunday.
At Edmonton, Van Mulligen was the lone South East Athletic Club representative on the South All-Stars, which trailed their northern counterparts until Calgary Flames' Drew Freer scored in the last minute of regulation, then again early in overtime to pull out the victory.
Van Mulligen had the lone goal at Hockey Hounds Arena for the Tigers in a 7-1 loss to Lethbridge. Ty Fraser had two goals and three assists for the Golden Hawks, who according to the online scoresheet were outshot 35-33.
Midget AA
The Jasper Home Hounds earned a pair of hard-fought wins on home ice this past weekend.
On Saturday the Medicine Hat midget AA team beat Foothills' Bisons 5-2 at the Kinplex. The margin could've been wider but for Bisons goalies combining for 48 saves, their team outshot 53-19.
Vaughn Strutt had two goals, while Jase Fleury, Brady Dovichak and Evan Gebhart had the others to stake the home side a 5-0 lead through 40 minutes.
Sunday was a tighter affair, a 4-3 win over Lethbridge seeing the Hurricanes outshoot the Hounds 34-29. But Strutt had another pair, including an important one with 5:13 to go that restored a two-goal lead. Lethbridge pushed to make it a one-goal game with 22 seconds left.
Cayden Dumanowski had three assists and Connor Miller had a goal and two helpers for the hosts. Cameron Hall also scored and Nate Hoffman made 31 saves in net.
Bantam AA
The Hounds bantam AA squad fell 4-3 in Taber Friday night.
Jacob Hazzard scored twice and Jayden richards netted the other, while Kaige Schafer and Tyler Wakelam each saw action in goal.
Peewee AA
A long road trip saw the Medicine Hat peewee AA Orange team win 2-0 in Cranbrook Saturday, then stop over in Lethbridge for a 4-2 win Sunday before coming home.
Kieran Wyrostok and Cash Olson scored in the third period of Saturday's win, while Pryce Velichko made 22 saves for the shutout.
In a Sunday game featuring 21 power plays between Orange and Lethbridge White, neither side could get much luck with the extra man, each scoring once. But Logan Weiss and Josiah Jackson each had a goal and an assist, while goals from Tate Bowal and Slade McFadzen helped the visitors to a 3-0 lead they held on to. Adam Ranger's 24 saves were key as well.
Medicine Hat Black had an easier travel schedule this past weekend, beating Lethbridge Red 6-3 at the Moose Rec Centre Friday night. They never trailed, getting two goals from Ryan Miller and singles from Colson Werely, Owen Bruins, Ty Wasyluk and cole Fisher. Kolter Gans made 17 saves for the win in net.
Peewee girls
The Wildcats peewee girls team earned two more wins on the weekend.
On Saturday they beat Airdrie 4-1, getting a hat trick from Keira Grant, a goal from Keyana Bert and goaltending from Taya Christie.
Sunday was a 10-1 win over Red Deer. Riley Gramlich had three, Bert and Myla Motz two, while Marley Howes, Alyssa Guy and Hayley Grad added the others.
Leave a Reply
You must be logged in to post a comment.