By Kalinowski, Tim on October 15, 2019.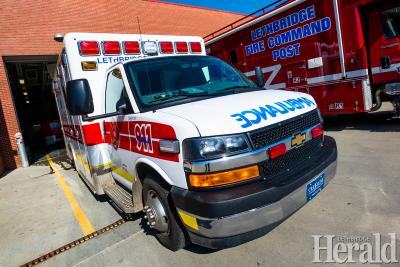 Herald photo by Ian Martens
An ambulance sits parked out in front of the bays at the downtown fire headquarters. Lethbridge Fire and Emergency Services have seen a significant rise in calls with the current opioid crisis in the city. @IMartensHerald
Tim Kalinowski
Lethbridge Herald
tkalinowski@lethbridgeherald.com
According to the Alberta Health Services second-quarter "Alberta Opioid Response Surveillance Report" released at the beginning of October, harm reduction appears to be working in the regions with fewer overdose deaths thus far in 2019, but the cost of this life-saving effort appears to be high for local frontline workers.
Not only is the Lethbridge Supervised Consumption Site the busiest in the province, local hospitalization rates and emergency department visits for opioid overdoses are also the highest in the province. And worryingly, local EMS response rates for opioid overdoses have also skyrocketed over the past two years, and appear to still be rising quarter by quarter.
Chief of Fire and EMS Services Marc Rathwell admits his members are feeling the strain.
"We're taking a beating," he says. "All of our frontline services, and the hospital. We go to overdoses everywhere in our city. It's not just one place – every community or neighbourhood in our city; we have gone to them for overdoses."
Rathwell is seeing more members booking off sick time as the strain of the work takes its toll on them, and his department has put extra resources in counselling and mental-health awareness initiatives to avoid "compassion fatigue."
"Compassion fatigue is like the film Groundhog Day," he explains. "You go to the same call over and over, and these are (life or death) calls, and I am going to see that same person again and again for the same type of call. The calls all start blurring together, and that becomes an issue for our staff.
"They mentally start to wear down because of the constant stress and anxiety. You just get wore down, and you don't feel like you are actually making a difference anymore. That's where we have to step up our mental-health services game to make sure we have all those supports there for our staff."
And not only are his members forced to deal with saving the same lives over and over, says Rathwell, there is a certain element within that local drug culture which is not at all grateful to be saved.
"There is a whole group in there where we resuscitate, and they actually run away from us," Rathwell explains. "Some of our clientele live a very rough lifestyle, and sometimes they are not always happy that we have come in. They have spent what they believe is a lot of money to get high, and they feel we have stolen that high from them. So sometimes when we resuscitate them, they actually come up and are violent to our crews. These folks are coming up swinging."
The potential for violence just adds a whole other level of stress and anxiety to his crews, he says; levels which are already very high to begin with when dealing with people who will die if they don't get resuscitated quickly enough.
"The whole violence surrounding the drug business, our staff is noticing an increase around the city," Rathwell says. "We're seeing a lot of weapons, and just about every person we deal with in that drug issue have some form of weapon on them. As a chief, with a lot of staff I care about, and want to make sure they are safe, it makes me uncomfortable at times. Our crews have to be on their game all the time; their situational awareness has to be super high."
Rathwell knows his crews are exceptionally well-trained and dedicated, and they continue to go out to confront the effects of the drug crisis every day with a determined professionalism which does the city proud. However, Rathwell also feels his crews are just holding their ground at the moment as the drug crisis continues to worsen.
"As our crews are wearing down, and we are being utilized so much in our community, and the call volume is increasing in terms of what we are responding to, we're getting stretched very thin," he admits. "So we are asking AHS EMS for more resources here in our community. I believe they are needed, and I have expressed those needs, and the data shows why we need more resources here in our community. We need at least another 24-hour ambulance going here in the city. That's two staff and another ambulance going 24 hours a day here. It's basically a couple million dollars we are asking for to do that."
Rathwell says even with the addition of another ambulance and crew he realizes just throwing more resources at the problem, without a broader and more comprehensive, strategic response to the drug crisis, will have little effect on the ground except maybe to take a bit of pressure off his staff.
"I am looking for a little more resource help," he explains. "I am thinking if we get a few more resources into the city, it will take a little bit of the pressure off our crews. I know it's not going to take it all off. I have not seen this level of stress in my crews before in my 25 years of service. There is the regular business we always used to do (with the ambulance), and we continue to do that, but this growing drug issue in the city, with the higher acuity involved and the situational awareness our crews must have, has amped things up on the stress side of things. So I hope we can get an ambulance- let's start with that and see if that helps ease the burden a little for our crews."
Follow @TimKalHerald on Twitter
Leave a Reply
You must be logged in to post a comment.