COVID-19 update for June 15, southeast Alberta
By Kellen Taniguchi on June 15, 2021.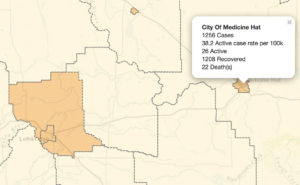 COVID-19 update for June 15, 2021
69.4 per cent of Albertans aged 12+ have received at least one dose of a COVID-19 vaccine.
Active cases:
Medicine Hat: 26 active cases
Cypress County: Seven active cases
Brooks: 13 active cases
County of Forty Mile No. 8: One active case
County of Newell: Six active cases
Lethbridge: 18 active cases
Medicine Hat recorded two new cases of COVID-19 and five recoveries on Tuesday.
There have been a total of 1,256 cases in the The Hat, including 1,208 recoveries and 22 deaths since the start of the pandemic.
In the past 24 hours, 127 new cases of COVID-19 were identified for a total of 2,804 active cases in the province.
271 people are in hospital, including 68 people in intensive care in Alberta.
There were four additional COVID-related death reported on Tuesday.