By COLLIN GALLANT on February 12, 2020.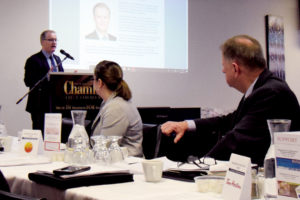 NEWS PHOTO COLLIN GALLANT
Grant Hunter, Alberta's associate minister of red Tape Reduction, address a breakfast meeting held by the Medicine Hat Chamber of Commerce on Tuesday, Feb. 11, 2020.
cgallant@medicinehatnews.com
Orphan oil and gas wells are a policy issue not a regulatory issue, the province's associate minister of "Red Tape Reduction" told a business audience in Medicine Hat on Monday.
Grant Hunter, MLA for Taber Warner, spoke to the Chamber of Conference about his government's efforts to reduce restrictions and compliance cost on businesses as a strategy to boost economic activity.
Replying to a question about the need for more effective rules in the oilfield to make sure companies meet environmental and lease obligations, Hunter said improving economics of the sector would lessen problems.
"I don't know if it's regulation we need to fix it," he said, citing the need for better pipeline and export access, which could lead to better pricing as a way to stabilize the finances of the sector.
"Simple economics, supply and demand finding a price equilibrium, will go a long way," he said, adding that a new cabinet portfolio position, held by Associate Minister of Natural Gas Dale Nally, is working on the issue.
Speaking generally to the crowd, Hunter said workplace and environmental safety must be considered when rules are examined in terms of improving the business environment.
"I don't think the majority of oil and gas companies are trying to stiff landowners," he told reporters afterwards.
"In Alberta we're in a difficult position. They have a responsibility to pay those leases, but I think communities realize that some companies are close to bankruptcy, and if they go bankrupt, they get nothing.
"The communities and government are trying to find the right balance here."
Cypress County councillors who attended said the health of the industry is an important consideration, but the government could and should do more to ensure compliance.
Coun. Richard Oster said the issue is more of enforcement of rules, rather than changes to the system that handles orphan well liabilities.
"It wasn't pushed and the thought was that industry would look after itself, and it didn't," he said.
"Now you have to get tough with it … the power is there, but they have to employ it."
Coun. Ernest Mudie said government faces a complex situation, "but more can be done."
Cypress County is facing a $3-million drop in tax revenue this year due to a tax cancellation program for shallow gas wells. That was extended to beleaguered producers by the Ministry of Municipal Affairs until a full review of assessment practices is complete by 2021.
Rural leaders have called for the province to give them greater power to collect back taxes from the struggling sector. The Rural Municipalities Association has said their members are owed $172 million in back taxes by petroleum companies, but there are few practical ways to collect.
As well, the Alberta Energy ministry is currently overhauling regulatory framework related to how oilpatch companies put funds aside to help close their wells that are no longer viable, or pay for those left over by insolvent companies.
Energy Minister Sonya Savage reportedly stated the results could be made public in March.
That came shortly after the Auditor General's office announced it would examine the Orphan Well Fund.
Specific to the energy sector, Hunter's office has commissioned a working group of nine CEOs and industry association heads to review rules looking for ways to ease regulatory burden.
Earlier this year it harmonized rules for certifying oilfield equipment that travels back to Saskatchewan among other efforts. Last summer, Nally announced that Alberta Energy brokered maintenance protocol changes that increased storage levels and led to a firmer price for natural gas.
Leave a Reply
You must be logged in to post a comment.